February 17, 2016
The Preserve at Tidewater is Underway!
After months of planning and creating the vision, we're proud to share that The Preserve at Tidewater is quickly transforming from a vision to a reality.
We broke ground last month and since that time, have been making steady progress on all aspects of the community. While traveling down the tree lined Old Folkstone Road toward the back gate of Camp Lejeune, the entrance to the Preserve at Tidewater is unmistakeable. The traditional Oyster Shack welcomes you and the illuminated bronze egrets stepping through the native grasses signals that you have arrived somewhere special. Behind the entrance the first release of is underway.
Over the holidays we were able to snap a few photos to share, which should help you see the beginnings of our vision—and what the future has in store for the Preserve at Tidewater. We hope that someday, you will call this home!
The Entrance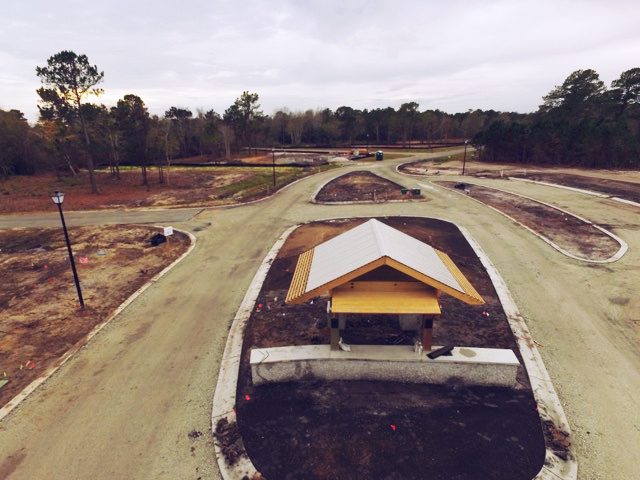 The entrance is the first thing homeowners, neighbors, and guests will see when they arrive at The Preserve, so it felt natural to start on this section of the community first. This photo shows the progress over the past months, as you can see the bones of what's to come. We will keep you updated with progress photos, it's not hard to picture how it will look when completed. Oyster shell concrete, native plants, sea grass, and plenty of spaces for relaxing, exploring, and visiting with neighbors are all on our to-do list. They'll be here before you know it!
The Homes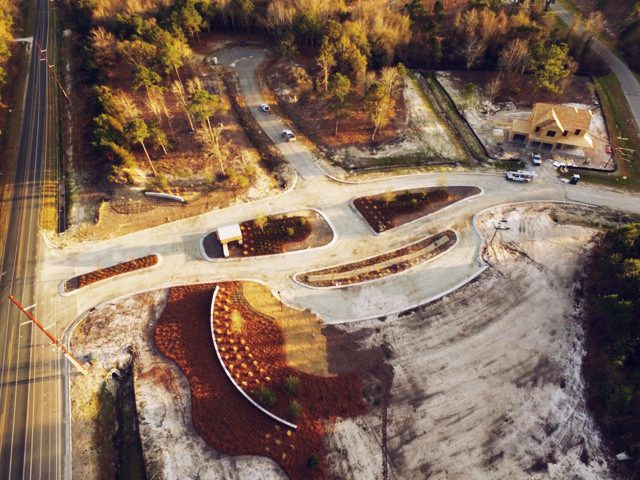 While we've spent a lot of time talking about the natural features of The Preserve, the perks of living in Onslow County, and the beautiful beaches at our fingertips, the very best part of The Preserve is none other than your future home. In the photo above, you can see one of the brand new homes underway in the upper right hand corner. With charming private streets that lead to the home, lush trees blanketing the community, and a comfortable, classic design, this home is more than a plan—it's a promise.
More to come!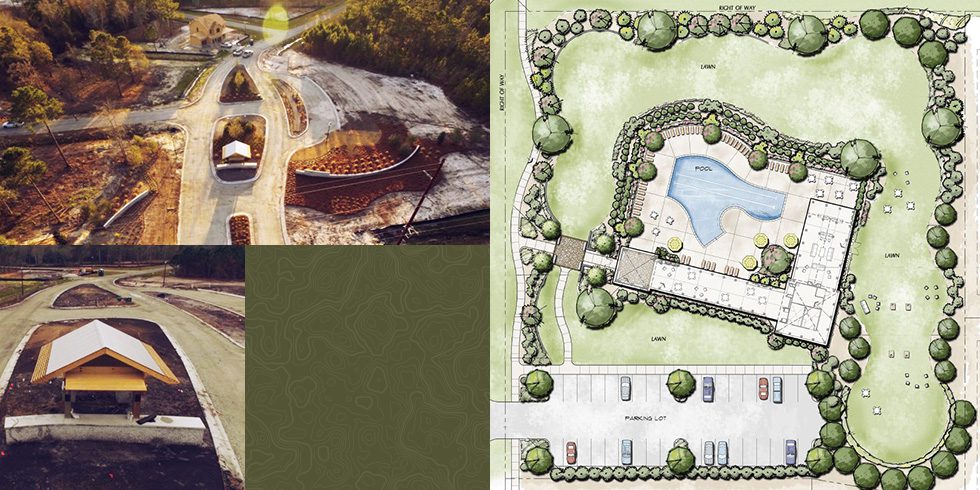 We hope that these photos are as exciting to you as they are to us. We can't wait to share more images and information over the next few weeks. Until then, you can like us on Facebook and follow us on Twitter for live progress reports, the best of North Carolina living, and fellowship with your future friends and neighbors. Thanks for following along—we can't wait to build a community together.
* Renderings are artist's conception and are not precise representations of the final products or amenities. Plans and specifications could change sat any time. The Owner reserves the right to modify colors, alter amenities without prior notice or obligation.